Interdulces chocolate cigars in packs of 20 units. Chocolate cigars for weddings, ideal for celebrations and events. A very sweet way to make a joke or just have a special detail with all the guests.

The chocolate cigars measure 12cm approximately and come in pack form of 20 units. They are chocolate milk.


Why do they give away chocolate cigars at weddings?

Undoubtedly the chocolate cigars are really good at weddings as a detail for the guests, but why are they giving away chocolate cigars at our wedding celebration?

Long ago it was a classic that the father or godfather of the bride delivered cigars during the after-dinner meal of the wedding celebration. This was a class symbol, which showed the good social position of the family, since in those times not everyone could afford the luxury of smoking cigars, and in any case, much less giving them away.

In more current times we have experienced the loss of this tradition, possibly due to the restructuring of a less class society and the implementation of the anti-smoking law that restricts smoke in most dining rooms where weddings can be celebrated.

Today, to maintain this tradition, we use chocolate cigars that can be tasted both large and small. Surely they snatch more than a laugh from the rest of the guests posing with the chocolate cigar.

In addition, in our wedding details section, you can find more gifts to make all your guests.
Presentation of chocolate cigars at the wedding

Here we give you an idea to present the chocolate cigars with a grooms card. There are multiple ways to present them, if you are something creative you can make these a very special detail. You can also present them in a small wooden box, in baskets, or with a bow. A more original more personalized will be.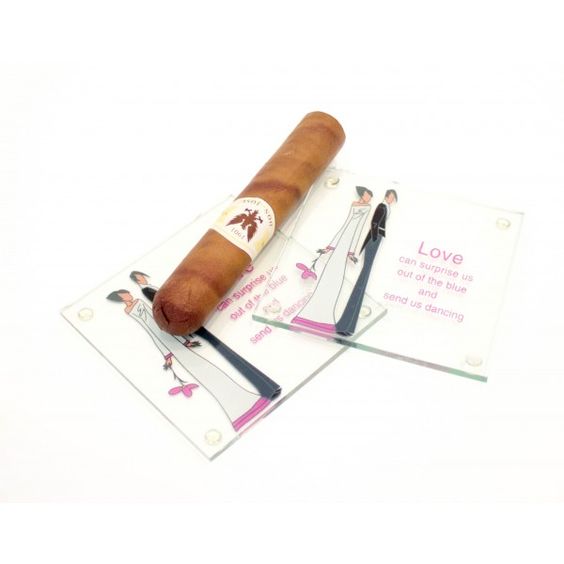 Do not hesitate, you will not find better price in chocolate cigars throughout the network. For more information about these delicious chocolate cigars call us.