La Casa de las Golosinas, jelly beans,gums, selling sweets and nuts online
New professional registered!
Free shipping on purchases over 75€
966 640 340

Nueva APP
Professionals

Cakes

Marshmallow cakes Accessories cakes

Chocolate bars

Chocolate & Pastry

Others

You may be interested in
Multicolor confetti cannon 50cm.
Multicolor confetti cannon
50cm.
Tax included
(3,25€ / Unidad)
This product does not contain allergens.
Features
- Kabuki multicolor paper and metallic cannon.

- It has a size of 50cm.

- Cannon for outdoor use.

- Works with a load of compressed air.

- Causes a launch effect of confetti at high altitude.
Special item for any party
Confetti cannons are one of the most used elements in weddings, parties and celebrations of all kinds.

Because they have a very simple system to cause special effects, it is a fun way to entertain and encourage all guests.

The confetti cannon is a faithful ally for celebrations, as it entertains and entertains children, seniors and people of all ages.

Any guest will like to remember those unforgettable photos with a shower of confetti.
Tips for use
- First, know what type of celebration we are going to make and choose a suitable confetti for it. We will not use the same confetti for a children's birthday party as for a wedding.

- Confetti cannons, although not dangerous, have some strength and pressure to be able to expel the confetti, which is why they must be used under the supervision of an adult.

 - We must avoid pointing at someone's body, always above the head, in the direction of the area where we want the confetti to be directed.In addition, depending on the angle you use you will get one effect or another.
Secure payment
Secure payment, buy without risks
Shipping
Free shipping for purchases over 75€
Related products
products you might also be interested in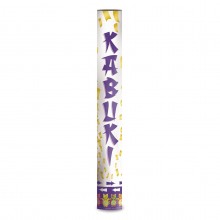 Customer
ratings
starstarstarstarstar
GLOBAL RATING
Global customer rating on this product
There are no ratings for the current language. Select all languages ​​to see all ratings.